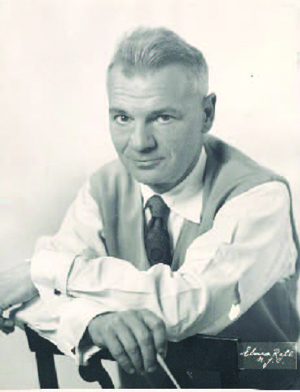 Summary Information
Abstract
This collection contains the personal papers, including musical scores, of the Hungarian-American composer, arranger, and theorist Tibor Serly.
At a Glance
| | |
| --- | --- |
| Call No.: | MS#1416 |
| Bib ID: | 5420150 View CLIO record |
| Creator(s): | Serly, Tibor. |
| Title: | Tibor Serly Papers, 1905-1992. |
| Physical description: | 3.15 linear feet [ 7 archival document boxes; 1 card file box; 1 oversize flat box (# 749)] |
| Language(s): | In English and Hungairan |
| Access: | This collection is located onsite. This collection has no restrictions. More information » |
Arrangement
Arrangement

This collection is arranged into two series and six subseries:
Description
Scope and Content

The collection is comprised of the papers in the possession of Serly upon his death in 1978, as well as correspondence related to his career handled by his wife, Miriam Serly, after his death. The content of the papers includes scores, manuscript drafts, correspondence, and other materials related to Serly's career as a composer and writer on music; typescripts, reviews, articles, correspondence, pamphlets, translations, notes, and a 16mm film by and about Béla Bartók; and legal documents, photographs, audio cassette recordings, printed materials, press clippings, certificates, awards, and other memorabilia pertaining to Serly's personal life.
Series I: Writings and Music by Serly, 1905-1978
Series I includes unpublished drafts of books written by Serly, and musical scores and sketches in his personal collection. The series is arranged into two subseries: Writings by Serly and Musical Scores.
Subseries 1: Writings by Serly, 1905-1978
Serly spent the better part of his last decade researching and writing a biography of Béla Bartók, a theory text about melody, and a personal memoir, all of which are included here in draft form. The extensive materials for the Bartók biography include: Serly's translations from Hungarian of musical essays written by Bartók; interviews with friends and family of Bartók; and unpublished historical and musicological essays written by Serly about Bartók. The Bartók material also contains the only known copy of a 16mm color home movie, without sound, of an informal performance by Bartók from 1944; with documents and correspondence from the 1970s between Serly and the Bartók estate concerning ownership of the film. Subseries 1 also includes the final draft versions of the unpublished Rhetoric of Melody, with voluminous correspondence between Serly and his co-author, Norman Newton, on the development of the text.
Subseries 2: Musical Scores, 1925-1978
A collection of original scores and arrangements from the entire length of Serly's career. The works include ballets, songs, chamber music, symphonies, and experimental music, all in different states of completion: parts, conductor scores, revisions, sketches, microfilms, and transparencies. Several pieces also demonstrate Serly's expertise as an arranger, with works by Bartók, Bach, Schubert, and his father, Lajos Serly.
Series II: Personal and Business Materials, 1911-1992
Series II contains business documents, correspondence, a scrapbook, and personal effects of Serly's life and career. The series is arranged into four subseries: Correspondence, Business and Publicity Materials, Memorabilia, and Photographs.
Subseries 1: Correspondence, 1931-1992
Personal and business-related correspondence, mostly from the 1970s, arranged alphabetically. Among the correspondents are Geza Frid, Lawrence Gilman, James Laughlin, and Peter Bartók. Subseries also includes the correspondence of Miriam Serly concerning Serly's career with scholars, publishers, and the Bartók estate through the 1980s; and three folders of reproductions of Serly's brief correspondence with Bartók and Zoltán Kodály, and more extensive correspondence with the music critic Henry Pleasant. These copies were obtained by Serly from other archives.
Subseries 2: Business and Publicity Materials, 1925-1988
Serly thoroughly documented his performing and composing career, best represented in an oversized scrapbook spanning his career, from music school concerts in Budapest from 1925; through his active period in the 1930s and 1940s, playing under Leopold Stokowski, Eugene Ormandy, and Arturo Toscanini; to his later years in the Pacific Northwest. Scrapbook includes an almost complete record in programs of performances of Serly's work, as well as clippings, reviews, and personal letters. Also, provides a record of Bartók's reception in New York during his exile and tributes to him after his death. Other notables in the scrapbook include Kodály, Ezra Pound, and Geza Frid. Subseries 2 also contains a file of newspaper clippings kept by Serly; a collection of clippings about Ezra Pound, mostly from the 1970s; a folder of orchestra programs from Serly's career; and original copyright forms and contracts for his published work.
Subseries 3: Memorabilia, 1911-1978
A small collection of personal items including: certificates, awards, and medals presented to Serly; membership cards; the 1911 naturalization certificate of Lajos Serly and his family; postcards and items collected by Serly in Hungary; and official documents pertaining to Serly's accidental death in London, including his death certificate.
Subseries 4: Photographs, 1935-1978
Two folders of photographs and negatives: the first contains photographs related to Bartók and his family, including several excellent images of casual moments from Bartók's time in America, as well as the last photograph (and negative) of Bartók, standing in front of Columbia University with his family. The second folder includes professional, publicity, and personal photographs, arranged chronologically, of Serly throughout his career, from 1930s orchestra photos through a 1976 trip to Hungary that Serly took with his wife to visit Kodály, and personal photographs of Serly at the end of his life in Longview, Washington.
Using the Collection
RBML

Access Restrictions

This collection is located onsite.

This collection has no restrictions.

Restrictions on Use

Single photocopies may be made for research purposes. Permission to publish material from the collection must be requested from the Curator of Manuscripts, Rare Book and Manuscript Library (RBML). The RBML grants permission to publish that which it physically owns; the responsibility to secure copyright permission rests with the patron.

Preferred Citation

Identification of specific item; Date (if known); Tibor Serly Papers, Box and Folder (if known); Rare Book and Manuscript Library, Columbia University.

Selected Related Material-- at Columbia

Béla Bartók collection, 1940-1981 Columbia UniversityRare Book & Manuscript Library

Selected Related Material-- Other Repositories

Tibor Serly Papers [1906-1978] The New York Public Library, Music Division
About the Finding Aid / Processing Information
Columbia University Libraries. Rare Book and Manuscript Library; machine readable finding aid created by Columbia University Libraries Digital Library Program Division

Processing Information

This collection was processed by Jude Webre 2007

Finding aid written by Jude Webre in May 2007

Machine readable finding aid generated from MARC-AMC source via XSLT conversion December 2, 2008 Finding aid written in English.

2009/01/15 xml document instange created by Patrick Lawlor
Subject Headings
Subjects

Heading
CUL Archives:
Portal
CUL Collections:
CLIO
Nat'l / Int'l Archives:
ArchiveGRID
Bartók, Béla, 1881-1945.
Portal
CLIO
ArchiveGRID
Bartók, Peter, 1924-
Portal
CLIO
ArchiveGRID
Chamber music--20th century--Scores.
Portal
CLIO
ArchiveGRID
Composers
Portal
CLIO
ArchiveGRID
Composers--Hungary--Biography.
Portal
CLIO
ArchiveGRID
Frid, Géza.
Portal
CLIO
ArchiveGRID
Helmy Kresa Henry Pleasants.
Portal
CLIO
ArchiveGRID
Hungarian Americans--Music--History and criticism.
Portal
CLIO
ArchiveGRID
Kodály, Zoltán, 1882-1967.
Portal
CLIO
ArchiveGRID
Laughlin, James, 1914-1997.
Portal
CLIO
ArchiveGRID
Longview (Wash.)--History.
Portal
CLIO
ArchiveGRID
Modernism (Music)--United States.
Portal
CLIO
ArchiveGRID
Music theory--History--20th century.
Portal
CLIO
ArchiveGRID
Orchestral music--20th century--Scores.
Portal
CLIO
ArchiveGRID
Ormandy, Eugene, 1899-1985.
Portal
CLIO
ArchiveGRID
Philadelphia Orchestra.
Portal
CLIO
ArchiveGRID
Pound, Ezra, 1885-1972--Friends and associates.
Portal
CLIO
ArchiveGRID
History / Biographical Note
Biographical Note

Tibor Serly was born in Losonc, Hungary on November 25, 1901. He began his musical studies with his father, Lajos Serly, a Hungarian patriot, theatrical composer, and pupil of Liszt. Due to financial hardships, Lajos Serly moved his family in 1905 to New York City, where Tibor spent his childhood. Tibor gained early experience in pit orchestras led by his father until 1922, when he returned to Budapest to attend the Liszt Academy. There, he studied violin with Jenö Hubay, composition with Zoltán Kodály, and orchestration with Leó Weiner, graduating in 1925 with highest honors. During his years in Budapest, Serly also first made the acquaintance of his longtime mentor and friend, Béla Bartók.

Serly returned to the United States upon graduation and held positions as a violinist and violist in leading American orchestras, including the Philadelphia Symphony Orchestra under the baton of Eugene Ormandy and the NBC Symphony Orchestra under Arturo Toscanini. He also became close friends with several modernist poets, including William Carlos Williams, Louis Zukofsky, Basil Bunting, and most notably Ezra Pound, whom Serly visited frequently at Pound's home in Rapallo, Italy, arranging concerts there. In 1938, Serly retired from performing to focus on composing and teaching.

In 1940, Béla Bartók and his wife emigrated from wartime Hungary to New York. Until Bartók's death in 1944, Serly devoted his energies to providing material and emotional support to the ailing exiled composer. Serly's papers include intimate photographs of Bartók and himself, as well as a home movie of an informal piano performance by Bartók. Serly arranged the Mikrokosmos suite for chamber orchestra, orchestrated the Third Concerto for Piano, and posthumously completed the master's Concerto for Viola from sketches of the work. A talented decipherer and stylist, Serly also reconstructed a duet by Liszt and a section of Schubert's unfinished Eighth Symphony.

From the 1930s on, Serly engaged in serious theoretical studies, developing a post-Schoenbergian enharmonic system called Modus Lascivus, which divides the twelve-tone scale into two segments to create a multimodal chromatic scale system. Serly published two advanced theoretical texts, A Second Look at Harmony (1964) and Modus Lascivus: The Road to Enharmonicism (1976), and had just completed a third, The Rhetoric of Melody, at the time of his death. Serly was also working on both a personal memoir and a biography of Bartók, the unfinished typescripts of which are included in these papers.

Towards the end of his life, Serly relocated with his second wife, the pianist Miriam Molin, to Longview, Washington, where he continued to teach and actively championed modernist music in the Pacific Northwest. At the end of his career, Serly was better known for his famous friends and collaborators, especially Bartók and Pound, than his own musical and theoretical work, a fact about which he complained bitterly in later correspondence. He was, however, indefatigable in his commitment to both innovation in modern music and preserving the rich musical traditions in which he had played a central role.

Tibor Serly died on October 8, 1978 after being struck by a car on a visit to London. His devoted wife Miriam, who kept his work alive through her performances, compiled the papers in this collection.