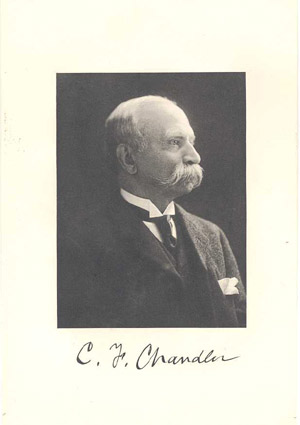 Summary Information
Abstract
Chemist, Professor, and President of the New York Metropolitan Board of Health, Professor Chandler taught at Union College before joining the faculty of Columbia University where he taught in the Chemical Department, the College of Physicians and Surgeons, and served as one of the founders and long-time Dean of Columbia University's School of Mines. He was interested in Industrial Chemistry and Public Health, serving on the New York Metropolitan Board of Health for many years and implementing a number of significant public health and public housing reforms.
At a Glance
| | |
| --- | --- |
| Call No.: | MS#0209 |
| Bib ID: | 4078595 View CLIO record |
| Creator(s): | Chandler, Charles Frederick, 1836-1925. |
| Title: | Charles Frederick Chandler Papers 1847-1937 [Bulk Dates: 1864-1925]. |
| Physical description: | 135.25 linear feet (241 document boxes, 32 record storage cartons, 3 small flat boxes). |
| Language(s): | In English |
| Access: | This collection is located off-site. You will need to request this material at least two business days in advance to use the collection in the Rare Book and Manuscript Library reading room. More information » |
Arrangement
Arrangement

This collection is arranged in 3 series:
Description
Scope and Content

Chemist, Professor, and President of the New York Metropolitan Board of Health. Professor Chandler taught at Union College before joining the faculty of Columbia University where he taught in the Chemical Department, the College of Physicians and Surgeons, and served as one of the founders and long-time Dean of Columbia University's School of Mines. He was interested in Industrial Chemistry and Public Health, serving on the New York Metropolitan Board of Health for many years and implementing a number of significant public health and public housing reforms.

This collection consists of material related to Charles F. Chandler's long career with Columbia University, as well as other professional activities, personal and household affairs, and his extensive collection of subject files on chemistry and general scientific matters. Within the Charles Frederick Chandler Papers there are letters, photographs, scrapbooks, ledgers, lab analyses, and some publications, including trade publications and price lists.
Series I: Personal, 1847-1925
The Personal Series is comprised of material related to Chandler's personal and domestic life, including material relating to the upkeep and management of his home and a number of photographs of Chandler and his associates. Additionally, the series contains his correspondence files relating to matters both personal and professional.
Subseries I.1: Correspondence, 1857-1925
Subseries I.1 contains correspondence both sent and received by Charles Chandler. Though this file falls within the series of Chandler's personal papers, this correspondence often relates to his professional life and could have been sent in any of his various capacities as professor, member of the Metropolitan Board of Health, and a member of various professional organizations. The subseries also includes the correspondence of Chandler's second wife, Augusta Chandler and correspondence relating to their wedding.
Subseries I.2: Biographical Materials, 1847-1925
This subseries contains a great deal of information related to Chandler's personal life and professional activities including some biographical articles and printed matter about Chandler, the subject files related to his many professional and social clubs and organizations, as well as school work and early diaries and scrapbooks depicting his younger life and travels. This series also includes the realia and three dimensional material connected with the collection but not part of one of Chandler's specific subject files. The objects in this series range from Chandler's pipe to small chemical apparatus. Also of interest here are some of Mrs. Augusta Chandler's files, notably scrapbooks such as her dinner party or opera-going books which depict the social obligations of a well-to-do woman in New York at the turn of the twentieth century.
Subseries I.3: Financial Records, 1825-1926
These files provide an intimate glimpse into the Chandler household through detailed information about household accounts, including bills, receipts and correspondence about standing orders and accounts. Additionally, the subseries includes information about many properties either owned or managed by Charles and Augusta Chandler, many of which were ancestral properties that were willed to the couple. Copies of some of these wills and property deeds are included.
Subseries I.4: Photographs, Undated
These photographs document both, in their subject matter, Chandler's leisure activities and homes, and, in their techniques, his active interest in photographic technology. The snapshots of Chandler and his family focus on photographs of his homes and gardens and travels. In addition to these files, there are also a number of professional portraits of Chandler and his colleagues located within these files.
Series II: Professional, 1864-1937
The professional series contains files related to Chandler's professional life as a scientist and educator, and his role as a public servant on the New York Municipal Board of Health.
Subseries II.1: Awards and Honors, 1904-1937
This subseries documents professional awards and honors awarded to Chandler, as well as some files related to awards he presented or otherwise helped to administer. Notably, this subseries contains files related to the Perkin medal, which was both received and presented by Chandler on different occasions, and a number of remembrances of Chandler given on the occasion of his retirement from Columbia.
Subseries II.2: Academic and Scholarly Activities, 1864-1925
The Academic and Scholarly Activities subseries documents Chandler's teaching and administrative activities, primarily with Columbia University as well as his professional chemical and scientific activities. The Columbia files include correspondence and memos relating to his roles as teacher and administrator in a number of departments and schools, most notably as the dean of the School of Mines. Also represented in this subseries are laboratory analyses that Chandler made or oversaw in his laboratory, and files relating to the founding of The American Chemist.
Subseries II.3: Municipal Board of Health, 1868-1888
The Municipal Board of Health Subseries includes files related to Chandler's work with the new York Board of Health. Particularly well-represented in this subseries are Chandler's interests in safe and sanitary tenements and slaughterhouses, though the subseries also includes laboratory analyses of health and beauty products and correspondence files.
Series III: Subject Files, Dates
The Subject File series is comprised of Chandler's own extensive research files and are arranged alphabetically. Many of these files are directly related to chemical, legal, or public health problems that Chandler actively worked on in his career, but there are also many that reflect his general interests in science and technology, such as the files related to photography and photographic processes. A typical subject file may contain clippings and notes, published articles, advertisements, correspondence, and often legal proceedings or legal precedents. As a general rule these are materials collected but not authored by Chandler, exceptions to this will generally be noted. Many of the subject files also contain physical samples of the materials-- notably but certainly not exclusively in Chandler's large collection of dye samples.
Using the Collection
Offsite

Access Restrictions

This collection is located off-site. You will need to request this material at least two business days in advance to use the collection in the Rare Book and Manuscript Library reading room.

Restrictions on Use

Single photocopies may be made for research purposes. Permission to publish material from the collection must be requested from the Curator of Manuscripts/University Archivist, Rare Book and Manuscript Library (RBML). The RBML approves permission to publish that which it physically owns; the responsibility to secure copyright permission rests with the patron.

Preferred Citation

Identification of specific item; Date (if known); Charles F. Chandler Papers, Box and Folder (if known); Rare Book and Manuscript Library, Columbia University Library.

Related Material- At Columbia

Central Files Records, 1890-1971 Columbia University Archives, Rare Book & Manuscript Library, Columbia University

Charles Frederick Chandler architectural records and papers collection Avery Architecture and Fine Arts Library, Columbia University

Historical Photograph Collection Columbia University Archives, Rare Book & Manuscript Library, Columbia University
About the Finding Aid / Processing Information
Columbia University Libraries. Rare Book and Manuscript Library; machine readable finding aid created by Columbia University Libraries Digital Library Program Division

Processing Information

Cataloged 04/17/89 by Christina Hilton Fenn

Papers reprocessed 2009 by Carrie Hintz

Finding Aid written May 2009 by Carrie Hintz

Machine readable finding aid generated from MARC-AMC source via XSLT conversion May 20, 2009 Finding aid written in English.

2009-05-20 xml document instance created by Carrie Hintz.
Subject Headings
Genre/Form

Subjects
History / Biographical Note
Biographical Note

Charles Frederick Chandler was an important American chemist and chemical educator. He was deeply involved in issues of chemistry, mining, and public health throughout the last third of the nineteenth and early decades of the twentieth centuries. As a professor at Columbia University, he revolutionized chemical education in the United States and was a major proponent of practical, scientific education. He was deeply involved in professional organizations and kept scrupulously abreast of scientific advancements, keeping detailed notes and files of clippings and articles about different chemical and scientific matters. He often acted as an expert witness in legal cases dealing with chemical matters and was well respected as an expert in his field.

Chandler was born in Lancaster, Massachusetts on December 6, 1836. His family moved shortly after his birth to New Bedford, Massachusetts, where he spent most of his formative years and engaged in his earliest formal education. As a child he devoted nearly all of his free time to scientific and geological explorations and attending public lectures on scientific subjects. These public lectures at the New Bedford Lyceum, in particular a series of lectures given by the geologist and naturalist Louis Agassiz, sparked his lifelong interest in science. He was particularly interested in mineralogy and collected rock and mineral samples that he found around his grandfather's Lancaster home.

Upon completion of his studies at New Bedford High School, Chandler spent a year in private study, learning Latin and Greek and conducting chemical experiments in a laboratory he set up in his father's attic to prepare himself for more advanced chemical study. He then left his home in New Bedford and enrolled in the Lawrence Scientific School of Harvard University. While at Harvard he studied Industrial Chemistry, but he was encouraged to continue his studies in Industrial Chemistry and Geology in Germany, which was at the forefront of scientific education at the time. He enrolled in the University of Göttingen in 1854 to study with Friedrich Woehler, and after studying under Woehler and working as an assistant in the lad of Heinrich Rose, the father of analytic chemistry, he earned his Ph.D. from the University of Göttingen in 1856.

After completing his degree, Chandler returned to the United States to pursue his own scientific career. Upon his return, in 1857, Chandler became the chemical assistant at Professor Charles Joy's laboratory at Union College in Schenectady, New York and shortly thereafter began to lecture on Mineralogy and Geology at the College as well as manage the laboratory. He became an associate professor at the College in 1857 at the age of 21. He remained at Union College for the next 7 years during which time he ran the chemistry lab and married his first wife, Anna Craig Chandler.

His tenure at Union College ended in 1864 when Chandler was asked by his former colleague, Professor Joy, to consider taking on the Chair of Chemistry at the newly formed Columbia University School of Mines that Professor Thomas Egleston and General Vinton were attempting to start under President Barnard. Chandler took the opportunity to move to New York, and begin his long relationship with Columbia University.

The School of Mines, later to develop into the School of Engineering and Applied Science, consisted at this time of one room in the basement of a Madison Avenue academic building. Within the first year of the School's existence, Chandler took on the position of Dean, and under his leadership in that first year the school moved to a larger four floor building and doubled the number of students enrolled in its program of study. Chandler was to remain dean of the School of Mines for the next 33 years, through its move to its new home on Columbia's Morningside Campus and into Havermeyer Hall, the state-of-the-art Chemistry building that he helped to design.

Though he stepped down as the Dean of the School of Mines in 1897, he continued to teach chemistry at Columbia University until 1910, where students described him as an extremely popular and engaging instructor.

Though Chandler is perhaps most associated with the School of Mines, he also, starting in 1867, began lecturing in Chemistry for the New York College of Pharmacy. He acted as president of this school until 1897 when it formalized its relationship to Columbia University and was incorporated as a University Faculty in 1897. He also lectured in Columbia's College of Physicians and Surgeons in 1872 where he taught chemistry and medical jurisprudence and called for a more rigorous scientific training for medical professionals. In addition to his instructional and administrative duties, Chandler also started a Chemical Museum, later named the Chandler Chemical Museum in his honor, to highlight the accomplishments of modern industrial and analytic chemistry.

While Chandler was a very popular instructor, he was not always so popular among his colleagues. He spent much of his time acting as an expert witness in various legal cases and patent disputes, and performed independent consulting work for companies such as Standard Oil. Many of Chandler's colleagues had concerns that Chandler was more focused on his profitable, outside consulting work than he was on his academic and administrative duties.

Though he was not entirely without controversy, Chandler remained an integral part chemical education at Columbia University until 1911 when he finally, after 46 years of service at Columbia and 54 years of college teaching, retired. Upon retirement he and his second wife, Augusta Berard Chandler, continued to reside in New York City, but spent more and more time at their summer home in Westhampton and at her family's home in New Hartford, Connecticut, where Chandler died in 1825.

While chemical instruction made up much of Charles Chandler's career, he was also an energetic public health advocate and sanitation reformer. His career in public service began in 1866 when the Secretary of the Metropolitan Board of Health asked Chandler to perform some chemical work for the board, ex officio. The Board soon realized the value of having a chemist as part of the organization and later that year Chandler was appointed as chemist to the Board of Health. In 1873 Mayor Havermeyer appointed Chandler to the Presidency of the Metropolitan Board of Health, a position he held until 1883.

His work with the New York City Municipal Board of Health led to a number of important sanitary reforms in the city. When he began his services on the Board of Health in 1866, 53 out of every 100 deaths in the city were children under the age of 5. He implemented major reforms to improve infant nutrition, including stopping the sale of watered-down milk, and instituted a corps of traveling physicians to tend to the residents of tenements. By the time he left the Board, the child mortality rate had fallen to 46 out of every 100 deaths, an estimated saving of 8000 lives and 5000 children per annum. He was a strong advocate for tenement reform, designing tenement houses that were cleaner and brighter than those most prevalent in the City, and pushing a "Tenement House Act" through legislature. This is all in addition to the more mundane tasks of testing household goods such as cosmetics, patent medicine, and wallpaper for toxic and potentially harmful additives. The Board of Health, under his leadership is credited with preventing a cholera epidemic in 1883. He, himself, thought his most important work with the Board of Health was his work in reducing fatal kerosene related accidents through informing the public about the dangers of kerosene with naphtha and gasoline added (making combustible vapors). All in all, Chandler's leadership of the Board of Health marks an important chapter in the history of sanitation in New York.

Chandler was very active in professional and social organizations, belonging to several Chemical Clubs and Organizations. While some of his clubs were purely or primarily social, other such as The Chemists' Club, which Chandler founded, were intended to build professional connections among scientists in New York. He also founded the American Chemical Society, and served twice as its president, first in 1881 and again in 1889, and served as the president of the Society of Chemical Industry. In 1870 he and his brother William Henry Chandler, a Chemistry Professor at Lehigh University, started the journal The American Chemist, the first chemical journal in The United States.

He received a number of honorary degrees, the Gold Medal of the National Institute of Social Sciences, and the prestigious Perkin Medal from the Society of Chemical Industry. After he retired from Columbia University, the alumni of that University set up an endowment for the Chandler lectureship and the Chandler medal in his honor.